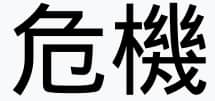 This collection of posts is a co-created endeavor from a group of friends and colleagues who want to stay true to our own personalized mindset by co-creating and problem-solving ways to navigate the unexpected move to an online learning ecosystem. No one anticipated that we would be living through the Chinese definition of crisis: two Chinese characters that signify "danger" and "opportunity" respectively.
How can we use this opportunity to reveal what we can discover about ourselves and our learners as we move to an online learning ecosystem?
We know many neighborhoods and communities are limited with Internet access which may impact some of the suggestions we have generated down below. However, there are also suggestions to address additional ways to be equitable with on and offline opportunities.
So step back for a moment, take a breath, and recalibrate. As you read through some of the suggestions in this newsletter, which of the ideas struck you as a high priority to take action on?
Reach out to us and to one another.
Sincerely,
Allison Zmuda and Bena Kallick
Mike Anderson
Maintaining School Momentum as Learning Moves Home
Mike Anderson shares how we can support routines and behaviors, offer choice, and use language to value the voice of learners as they engage in at-home learning.
Mike Fisher
Coronavirus Conversations: Leveraging Networks and Resources for Online Learning
Mike Fisher shares that if schools need to make decisions about learning online there are several considerations. This includes scale — how big or small you want the opportunity to be and whether your messages and interactions are for big or small groups. It also includes multiple relevant resources and knowing where to go to get what you need for learning experiences.

Bena Kallick and Allison Zmuda
Learning About Yourself As You Shift to Home-Based Learning
In their first blog post, Bena and Allison offer reflective questions both for educators and students to consider as the entire school community faces new challenges and opportunities. To find more ideas and suggestions on Personalized Learning with Habits of Mind, please visit Learning Personalized and The Institute for Habits of Mind

In the second blog post, Bena and Allison suggest a few tips to a Habit of Mind worth tending to right now— managing impulsivity. To find more ideas and suggestions on Personalized Learning with Habits of Mind, please visit Learning Personalized and The Institute for Habits of Mind.
Aaron Roberts
5 Tips for Families as They Transition to Home Learning
Aaron Roberts considers the parent, guardian, and caretaker perspective with this new shift in learning. Now that school is suddenly at home, how can adults and kids work together to make a powerful home learning environment? These five tips can help you make the best of this situation. Roberts is a Learning Experience Designer with Mason City Schools in Mason, Ohio. Stories about Mason's journey into personalized learning can be found at their blog and by following their exploits on Twitter using #MasonPLJourney
Silvia Tolisano
#remotelearning – It's Happening …

Silvia Tolisano shares her concrete tools and pedagogical guidance on how to grow thinking and sharing with learners in a virtual space. Her blog post shifts our perspective from purely a reactionary one to an "incredible opportunity to document these new forms of learning and collaboratively redefine teaching and learning for the future." Silvia's site is a treasure trove of instructional practices and processes that elevate learner voice and co-creation as they seek out information and share their ideas with others.